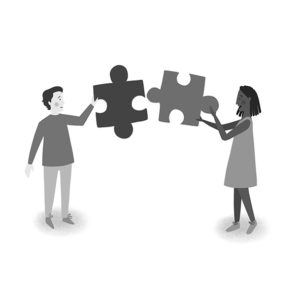 Author: Celia Popovic
Vignette:
Giles loves his job. He is an educational developer working in a Faculty. He is aware that others are doing similar work to him in the university and certainly around the country and beyond, but he does not know how to reach out to them. How does a newcomer go about finding like-minded colleagues?
************************************************************************************************
Some educational developers work in large teams. Others work in isolation: they may be the only person with that role in their Faculty or institution. Even if you are part of a large team it is not a given that you will immediate feel part of a community.
Why would you need a community? Some people thrive in their own bubble, they build a sense of community with those they support and they have no sense of isolation. Most people, however, find they perform better and enjoy their work more if they feel part of a community. This may be a social community, but it is also a professional community. By learning from others and working together we are more likely to develop a consensus of what works, get new ideas, avoid reinventing the wheel and feel invigorated. Having a network is also great for mutual (mental) support and having a sounding board of people who understand your situation. Being connected is good for both your personal and professional health.
Some of the more common sources of support include:
Development opportunities for developers
Aside from this website, there are multiple ways to find development opportunities as an educational developer. Exchanges and visits, and mentoring are two examples. See the links below
There are some courses available. POD and EDC both run residential courses for new developers. See their websites for details. SEDA offers online courses tied to their Fellowship scheme.
For a Canadian contact:
If you're new to an educational developer role, you're invited to join the monthly New Ed Developer/Early Career Coffee Chat via zoom. These chats are an informal way to network with others as we navigate our new roles remotely. The chats are hosted the last Friday of every month, 2-3pm Central time. Please contact Brit at britparis@capilanou.ca for the Zoom link.
References:
Rudenga, K.J. and Gravett, E.O, (2019) Imposter Phenomenon in Educational Developers, To Improve the Academy https://onlinelibrary.wiley.com/doi/full/10.1002/tia2.20092 
During the Covid 19 shutdown, several of us have been meeting weekly in a Virtual Knitting/ Crafting group. See this page for some photos of our output!
If you have any suggestions to add to these links - in any of the categories on this page - please send them to cpopovic@yorku.ca or suggest them in the comments box below.
*************************************************************************************************

This work is licensed under a Creative Commons Attribution 4.0 International License.